History Recognition Plaques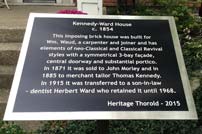 KENNEDY-WARD HOUSE c.1854
6 Welland St. South
This imposing brick house was built for Wm. Waud, a carpenter and joiner and has elements of neo-Classical and Classical Revival styles with a symmetrical 3-bay façade, central doorway and substantial portico. In 1871 it was sold to John Morley and in 1885 to merchant tailor Thomas Kennedy. In 1915 it was transferred to a son-in-law – dentist Herbert Ward who retained it until 1968.
MOORE-LAMPMAN HOUSE c.1853
44 Clairmont Street
This one and one-half storey "Ontario Classic Revival House" with pillastered door case and shuttered double-hung windows was built for Jones Moore and Caroline Pew (UEL). Jones Moore was an importer and wholesale merchant originally from Avon, Livingston County, N.Y. Their daughter Amelia married Frederick Lampman (UEL) a local barrister and solicitor whose office was located in his home. After Frederick's death in 1886, Amelia ran a boarding and day school onsite for several years while raising her five children. The home stayed in the Moore-Lampman family until its sale in 1966.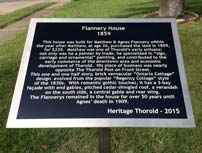 FLANNERY HOUSE 1859
22 Portland Street
This house was built for Matthew & Agnes Flannery within a year after Matthew, at age 26, purchased the land in 1859, for $235. Matthew was one of Thorold's early artisans; not only was he a painter by trade, he specialized in "sign, carriage and ornamental" painting, and contributed to the early commerce of the downtown area and economic development of Thorold. His place of business was nearly opposite The Thorold Post on Front Street. This one and one half storey, brick vernacular "Ontario Cottage" design evolved from the popular "Regency Cottage" style of the 1830s. With romantic gothic touches, it has a 3-bay façade with end gables, pitched cedar-shingled roof, a verandah on the south side, a central gable and rear wing. The Flannerys remained in the house for over 50 years until Agnes' death in 1909.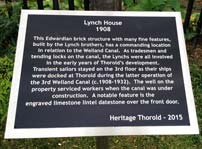 LYNCH HOUSE 1908
65 Chapel St. South
This Edwardian brick structure with many fine features, built by the Lynch brothers, has a commanding location in relation to the Welland Canal. As tradesmen and tending locks on the canal, the Lynchs were all involved in the early years of Thorold's development. Transient sailors stayed on the third floor as their ships were docked in Thorold during the latter operation of the 3rd Welland Canal (c.1908-1932). The well on the property serviced workers when the canal was under construction. A notable feature is the engraved limestone lintel datestone over the front door.
CARTER-HOLLAND HOUSE 1875
35 Welland St. South
This Gothic Revival and Italianate style home was built by Henry Carter, a mason, a firefighter and member of Council, who organized what later became the well-known and successful Thorold Reed Band. This house has many exquisite untouched details and fine features, including the steep-pitch roof and cathedral windows. The frame rear section was a later addition to the house. The Holland family bought the house in 1939 and it remained in their possession for the next 60 years.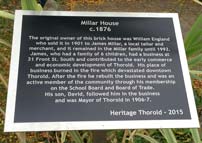 MILLAR HOUSE c.1876
43 Welland St. South
The original owner of this brick house was William England who sold it in 1901 to James Millar, a local tailor and merchant, and it remained in the Millar family until 1992. James, who had a family of 6 children, had a business at 31 Front St. South and contributed to the early commerce and economic development of Thorold. His place of business burned in the fire which devastated downtown Thorold. After the fire he rebuilt the business and was an active member of the community through his membership on the School Board and Board of Trade. His son, David, followed him in the business and was Mayor of Thorold in 1906-7.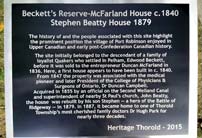 BECKETT'S RESERVE-McFARLAND HOUSE c.1840
STEPHEN BEATTY HOUSE 1879
10 Canby Street, Port Robinson
The history of and the people associated with this site highlight the prominent position the village of Port Robinson enjoyed in Upper Canadian and early post-Confederation Canadian history. The site initially belonged to the descendant of a family of loyalist Quakers who settled in Pelham, Edwood Beckett, before it was sold to the entrepreneur Duncan McFarland in 1836. Here, a first house appears to have been built in c.1840. From 1847 the property was associated with the medical pioneer and later President of the College of Physicians and Surgeons of Ontario, Dr. Duncan Campbell. Acquired in 1855 by an official on the 2nd Welland Canal and superintendent of nearby St.Paul's Church, John Beatty, the house was rebuilt by his son Stephen – a hero of the Battle of Ridgeway – in 1879. In 1887 it became home to one of Thorold Township's most cherished family doctors Dr. Hugh Park for nearly three decades.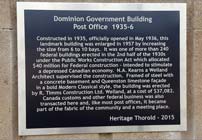 DOMINION GOVERNMENT BUILDING – Former Post Office 1935-36
18 Front St. North
Constructed in 1935, officially opened in May 1936, this landmark building was enlarged in 1957 by increasing the size from 6 to 10 bays. It was one of more than 240 federal buildings erected in the 2nd half of the 1930s under the Public Works Construction Act which allocated $40 million for Federal construction – intended to stimulate a depressed Canadian economy. N.A. Kearns a Welland Architect supervised the construction. Framed of steel with a concrete basement and Queenston limestone façade in a bold Modern Classical style, the building was erected by R. Timms Construction Ltd. Welland at a cost of $37,082. Canada Customs and other federal business was also transacted here and, like most post offices, became part of the fabric of the community and a meeting place.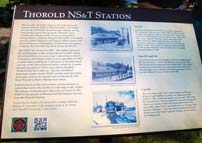 NIAGARA, ST. CATHARINES & TORONTO RAILWAY
"The Canadian Railroad Historical Association (CRHA) unveiled a new history plaque in the City of Thorold on July 13th at the Thorold Community Credit Union (corner of Front and Clairmont Sts.) in downtown Thorold.
This commemorates the NS&T (Niagara, St.Catharines and Toronto Railway) inter-urban passenger and freight service at Thorold – the central part of the system which connected Toronto by boat, and by rail the Main Line between Port Dalhousie, Port Weller and St.Catharines with Niagara Falls, and the Welland Division which also went to Port Colborne.
The Station, where the Thorold Credit Union now stands, was the site of the last electric inter-urban passenger service in Canada, ending in 1959.
This plaque displays information and pictures for residents of Thorold, tourists and visitors to the Niagara  region, and is a reminder of a by-gone era. This local history plaque project is the first of several planned by CRHA and was 100% funded by their private efforts.
More information on their web site : www.crhaniagara.com
The CRHA Niagara Division was started in October 1978 – 37 years ago.
Thank you to the CRHA for their hard work and commitment."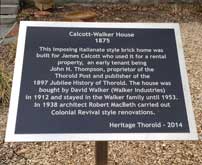 THE CALCOTT-WALKER HOUSE 1875
49 Carleton St. South
This Italianate style brick home was built for James Calcott who used it as rental property, an early tenant being John H. Thompson, proprietor of the Thorold Post and publisher of the 1897 "Jubilee History of Thorold". The house was bought by David Walker (Walker Industries) in 1912 and stayed in the Walker family until 1953. In 1938 architect Robert MacBeth carried out renovations in Colonial Revival style. This building is located on a corner property, is one of our outstanding designated homes and is cared for with great pride !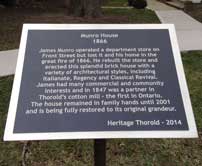 THE MUNRO HOUSE 1866
5 Ormond St. South
James Munro operated a department store on Front Street but lost it and his home in the great fire of 1866. He rebuilt the store and erected this splendid brick house with a variety of architectural styles including Italianate, Regency and Classical Revival. James had many commercial and community interests, and in 1847 was a partner in Thorold's cotton mill – the first in Ontario. This beautiful house remained in family hands until 2001 and is presently undergoing full restoration, which work is being undertaken with great care.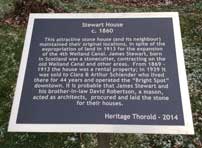 THE STEWART HOUSE c.1860
40 Chapel St. South
This attractive stone house (and its neighbour) maintained their original locations, in spite of the expropriation of land in 1913 for the expansion of the 4th Welland Canal. James Stewart, born in Scotland, was a stonecutter, contracting on the old Welland Canal and other areas. From 1869-1913 the house was a rental property; in 1939 it was sold to Clara & Arthur Schlender who lived there for 44 years and operated "The Bright Spot" downtown. It is probable that James Stewart and his brother-in-law David Robertson, a mason, acted as architects, procured and laid the stone for their houses. This is an outstanding stone building, in close proximity to Thorold's Tourism Centre and Lock 7 of the Welland Canal.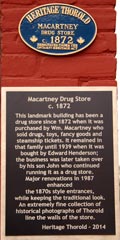 MACARTNEY DRUG STORE
15 Front St. South c.1872
Designated 2006
This landmark building in downtown Thorold has been a drug store since 1872 when it was purchased by Wm. Macartney. It remained in that family until 1939 when it was bought by Edward Henderson; the business was later taken over by his son John who enhanced the building in 1987 while keeping the traditional look. The store displays an extremely fine collection of historical photographs of Thorold.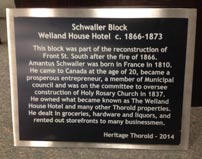 THE SCHWALLER BLOCK c. 1866-1873 (Welland House Hotel)
46-50 Front St. South
This block was part of the reconstruction of Front St. S. after the fire of 1866. Amantus Schwaller was born in France in 1810 and came to Canada at age 20. He became a prosperous entrepreneur, a member of municipal council and was on the committee to oversee construction of Holy Rosary Church 1837. He owned what became known as the Welland House Hotel and many other Thorold properties. He dealt in groceries, hardware and liquors and rented out storefronts to many businessmen. This building displays, on the south wall, a beautiful mural of "old Thorold" completed in 2014 by Catharine Mellor – a very talented local artist and muralist ( unveiling June 14th). This block of buildings has been attractively renovated to house several businesses.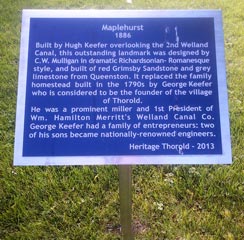 MAPLEHURST (Keefer Mansion Inn)
14 St. David's Rd. West 1886
Designated 2002
Thorold's outstanding landmark, built by Hugh Keefer overlooking the 2nd Welland Canal. George Keefer is considered to be the founder of the village of Thorold; he was first President of Wm. Hamilton Merritt's Welland Canal Co. George Keefer had a family of entrepreneurs whose accomplishments spread clear across our country. Designed by C.W.Mulligan, the building has been fully restored and furnished as our gorgeous Keefer Mansion Inn.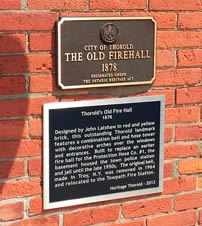 OLD FIRE HALL
12 Albert St. West 1878
Designated 1989
Designed by John Latshaw in red and yellow brick, the building features a combination bell and hose tower with decorative arches over the windows and entrances. The original exterior lights to the fire hall were discovered in the basement of the building and have been re-installed. The original Fire Bell has been designated under the Ontario Heritage Act and can be viewed at the front of the present fire hall on the Towpath. This outstanding building is a landmark throughout the Region. It has recently been beautifully restored and houses a well-known fashion design business.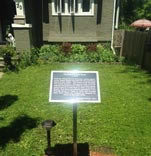 THE SMERDON-BUSS HOUSE
20 Vine Street c.1912
This fine house was built by Alfred Weeks Smerdon whose family connection to James Weeks is important since he founded the Thorold Reed Band in the 1950s. Paul Buss bought the house in 1927, and 5 years later he was elected leader of the Thorold Board of Trade. He also founded the Spun Rock Wool Co. located on Ormond St. North, Thorold. Pride of ownership is shown in the request for this plaque by the present owner.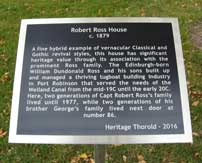 ROBERT ROSS HOUSE c.1879
80 Canby Street, Port Robinson
A fine hybrid example of vernacular Classical and Gothic revival styles, this house has significant heritage value through its association with the prominent Ross family. The Edinburgh-born Wm. Dundonald Ross and his sons built up and managed a thriving tugboat building industry in Port Robinson that served the needs of the Welland Canal from the mid-19C until the early 20C. Here, two generations of Capt. Robert Ross's family lived until 1977, while two generations of his brother George's family lived next door at #86.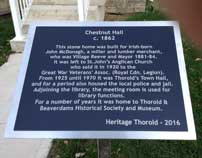 CHESTNUT HALL c.1862
Adjacent to Thorold Library
Vine & Ormond Sts. Thorold
This stone home was built for Irish-born John McDonagh, a miller and lumber merchant, who was Village Reeve and Mayor 1881-84. It was left to St. John's Anglican Church who sold it in 1920 to the Great War Veterans' Assoc. (Royal Cdn. Legion). From 1925 until 1970 it was Thorold's Town Hall, and for a period also housed the local police and jail. Adjoining the library, the meeting room is used for library functions. For a number of years it was home to Thorold & Beaverdams Historical Society and Museum.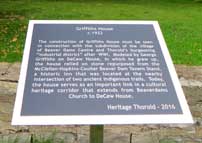 GRIFFITHS HOUSE c.1922
1840 DeCew Road
The construction of Griffiths House must be seen in connection with the subdivision of the village of Beaver Dams Centre and Thorold's burgeoning "industrial district" after WWI. Modeled by George Griffiths on DeCew House in which he grew up, the house relied on stone repurposed from `the McClellan-Hopkins-Coulter Beaver Dam Tavern Stand, a historic inn that was located at the nearby intersection of two ancient indigenous trails. Today the house serves as an important link in a cultural heritage corridor that extends from Beaverdams Church to DeCew House.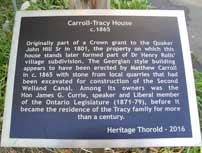 CARROLL-TRACY HOUSE c.1865
14 Carleton St. North
Originally part of a Crown grant to the Quaker John Hill Sr. in 1801, the property on which this house stands later formed part of Dr. Henry Rolls' village subdivision. The Georgian style building appears to have been erected by Matthew Carroll in c.1865 with stone from local quarries that had been excavated for construction of the 2nd Welland Canal. Among its owners was the Hon. James G. Currie, speaker and Liberal member of the Ontario Legislature (1871-79), before it became the residence of the Tracy family for more than a century.
We have a number of history plaques already installed throughout the city as follows :
J.B. Stone, Battle of Beaverdams Park
Squire Black, 48–50 Albert St. East (2 houses)
1827 Stone, Battle of Beaverdams Park
Old Fire Bell, Towpath Fire Station
Quebec Bank, 28 Front St. South
Recognition Plaques are also displayed at :
Battle House, 17 Front St. North
Menechella House, 5 Queen St. North
Bogardus House, 46 Welland St. South
CVL Building, Front St.North